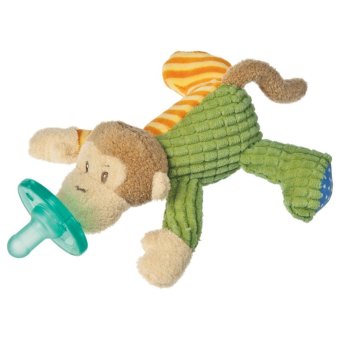 Latest Price: SGD30.90
Brands: WubbaNub
Category: Mother & Baby > Pacifiers & Accessories > Pacifiers
---
Product details of WubbaNub Mango Monkey Pacifier
WubbaNub Mango Monkey Pacifier features an award-winning design which is half-toy, half-pacifier, and one whole lot of fun! This WubbaNub comes with a sewn in Soothie-brand pacifier, and is well-suited for helping to soothe and calm your baby. Perfectly safe and tested for infant use.
Brand Information
Over the last 15 years, WubbaNub™ Infant Pacifiers have been soothing baby's "fussy time" in a way that no other product can. Created from a loving mother's desire to soothe her crying baby, the WubbaNub™ starts with a Soothie™, a premium pacifier made of latex free medical grade silicone. This pacifier is then permanently attached to an adorable line of plush characters. This innovative, patented design prevents the pacifier from being lost, dropped or even forgotten! The plush animal provides maximum comfort for babies and makes it easy for them to grasp and manipulate the pacifier themselves. 
The WubbaNub Plush Toy Pacifier is designed to give your baby comfort with a soft, bean-filled animal friend that not only provides stimulation for little fingers, but positioning support for the pacifier. The Soothie pacifier is sewn into the WubbaNub for safety and is made of Medical Grade Silicone that is latex-free. The beans in the WubbaNub plush toy are sewn in separate safety sacks within the plush and conform to U.S. government safety code requirements. 
Awarded the 2008 Top Choice Award/Pacifier in Creative Child Magazine. 
An Oscar winner! Featured in Academy Award Gift Bags! 
Designed and made exclusively in the United States
Mango Monkey Wubbanub is a handy 6" size
Latex free medical grade silicone Soothie pacifier
BPA, PVC and Phthalate free
No cords or clips
Machine Washable
Perfect size for little hands
---
Product Comparison WubbaNub Mango Monkey Pacifier Models and Prices