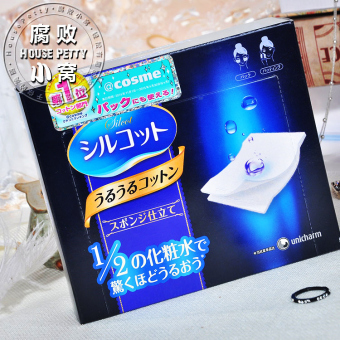 Latest Price: SGD6.00
Brands: OEM
Category: Health & Beauty > Makeup > Makeup Accessories
---
Product details of Unicharm super absorption super makeup Cotton
Seiwa for 10 years sales amount of NO.1 unicharm without leaving cotton the makeup cotton, BENSE.O products in a natural cotton composition, by high temperature disinfection, Offers system of law is not with a variety of flourescent agent and add material. Special effective the close to skin, thoroughly unloading in addition to mask and makeup,Texture super flexible and smooth, with after without leaving residual debris. The cleansing at the same time lock live skin moisture, to get to moisturizing effect. Use after, skin delicate smooth, not tight stretch.
Note: currently for sale the You Nijia makeup cotton has been is drunk new packaging, And the old with fine the difference, but quality is still, in addition to product date more new, Part of the product with a touch of the taste, put a paragraph time after will naturally disappear, please know!
Use Method
1, This section makeup CottonIs you Makeup Water a good partner, Use ordinary 1/2 the Makeup WaterWith amazing the moisturizing effect, Material super soft, to skin is very gentle. 2, Due to as a whole is closed-type structure, Therefore in use process in will not worry about damaged and results in fiber residue in on his face. In a new material,Shot hit after will not from the hair, still soft. 3,Yi Zhang is two small piece, Unique the curved design, stickers in Face Design ~ Easy to apply water film Oh! Makeup Water shot hit after separate two piece as a mask stickers in the next eye ,~ Do not cut ~ Super convenient!
Or more is corruption to do the one cleansing small experiment, material a little too hard, In case of water Ramar change was soft and comfortable,Cleansing water will not too much the is makeup cotton absorption, is very good the is free up out, From above Keyi see only drops of a small part of the cleansing water, Whole of makeup cotton are change was very moist The, (really the super Province, Province of usually 1/2 of cleansing water ~)A, every time to get to cleansing and suitable in, light press a touch, Back on top of cleansing liquid on the soon the is in addition to, with no unloading the very clean and it!
Or more photo shoot is corruption with makeup water in the back on top to do the Dressing Water Film small experiment.Before with Makeup Water Attaining the, often in the middle it before the plus makeup water, Feel Really the good waste. This section on the different the, it as long as with measure around half the make-up water, no longer have to do not need to the middle of make-up water, not by the expressed how to there is no early to meet it. Price also is very affordable. The entire wrap the process in very moist. Makeup Water fully is free up out.Apply after the entire hand change was very moist, soft slip, effect of the is very good. Really the is very easy to use, it is worth a!
40Gold dress, dark blue color box, 70mm * 58mm, Keyi per sheet cut to 2 small piece to,Sense of water sponge material a little hard, absorbent after becomes soft, And then Keyi full free up the absorption of makeup water or cleansing water, more province water!Suitable with toner water use!
【1]COSMETop list drunk before the name, You Nijia in a new development of sponge is the people surprised the moisturizing type makeup cotton.
[2] Never hit as longMakeup Water of 1/2,On the can make UNEEED skin enjoy water General the feel !!!!!! [3]A hundred of use !!Make UNEEED makeup water is no longer waste! Even if is very a small amount of the make-up water, Also Keyi to UNEEED skin end full of penetration into it! [4] drunk Sunquick material --Sense of Water Sponge! Keyi make Makeup Water a hundred points of a hundred the penetration to UNEEED skin of in, Even if only left a little point the make-up water, Also can make UNEEED skin feel to blowing shells can be broken the feeling, A touch Makeup Water of moist up!
1, do not for use outside.
2, use after do not lost into the toilet.
3, after opening, to keep clean to avoid dust and other.
4, the spinning in children can not touch the places.
40 pieces of dress, dark blue color box, 70mm* 58mm, Can be per sheet cut to 2 small piece to with, sense of water sponge material a little hard, Absorbent after becomes soft, and can be fully free up the absorption of makeup water or cleansing water, More provinces water! For with toner water use!
Beauty tools Classification: Facial beauty make-up appliances
Beauty tools Classification: Makeup Cotton
Beauty tools Varieties: Makeup Cotton
Brand: Unicharm/You Nijia
Makeup/beauty tools single product: Silcot super Province Water makeup Cotton
Specifications type: Mid size
Effect: Other/Other
For Skin: Any skin
Origin: Japan
Shelf Life: 3 years
---
Product Comparison Unicharm super absorption super makeup Cotton Models and Prices