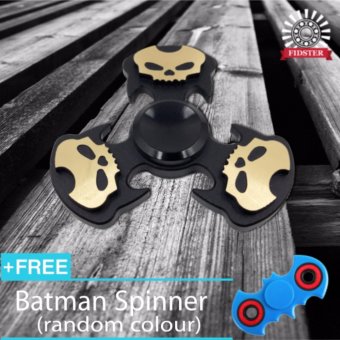 Latest Price: SGD18.00 -54%
Brands: Fidster
Category: Toys & Games > Action Figures & Collectibles > Collectibles
---
Product details of Skull 3 Aluminium Metal Fidget Spinner
The new Skull 3 design is a classic grunge fusion. The Skull 3 is made of Aluminium metal, which is light weight and confortable to spin, without uasing much finger strength. It measure L6.5 x W2.5 x 1.2(ctr) x 0.9cm only. The weight is only 36gm, which is the right weight for a standard spinner. The R188 bearing use the latest low-friction technology by incorporating a metal bearings to ensure longevity and smooth rotation, Easy To Carry, Small and Simple. Like all bearings and spinning fidget toys, it takes time spinning and breaking-in to achieve longer spinner times. The more you spin the toy, the longer it will last. Cleaning the bearings will dramatically increase spin times. These are perfect pocket pieces for people wanting something small, simple, discrete and fun-also effective for focus, stress relief and deep thought.
Specification: Model: Skull 3 Grade: A Bearing: R188 Material: Aluminium Metal Size: L6.5 x W2.5 x 1.2(ctr) x 0.9cmWeight: 46g Colour: Black, Blue, Silver, Gold & Rose Gold
About Types of Spinners
Premium  Mostly made of heavier metal material eg:, Copper, Brass, Alloy metal, Stainless Steel or Platinium.
Standard  Mostly made of light weight material eg: Aluminium, Metal, Plastic, Hard Foam, Papers & etc.
Entry Level  Mostly fitted with a low cost bearing and materials
About Fidgeting Fidget spinners can help with concentration, relaxation, and other powerful benefits. Fidget spinners are also known to help with mild to moderate anxiety and stress. Research shows that physical activity, even a little foot-tapping, gum chewing or in our case fidget spinning, increases levels of neuro transmitters in the brain that control focus and attention. A subtle fidget may help block out distractions, fight boredom, and increase productivity.
Cool Design with Protruding Skull
Compact Size & Light Weight 
Aluminium Metal Material
Top Quality R188 Bearing
Removable bearing for easy cleaning 
Spins 2-4 mins, depend on strength
---
Product Comparison Skull 3 Aluminium Metal Fidget Spinner Models and Prices
Skull 3 Aluminium Metal Fidget Spinner

-54%
Toys & Games > Action Figures & Collectibles > Collectibles